Columbia Pacific CCO is committed to finding solutions that can make its members healthier and our communities stronger.
That's why we are investing in regional housing.
Since 2020, the Columbia Pacific Regional Housing Impact Fund has invested $3.5 million to increase affordable housing in Clatsop, Columbia and Tillamook counties. Funds were provided by Columbia Pacific CCO and its Clatsop County risk-share participants, including Providence Seaside Hospital, Columbia Memorial Hospital and Clatsop Behavioral Healthcare.
Columbia Pacific's investment in housing is a direct result of, and in response to, community feedback. Access to safe and affordable housing was identified in our 2019-2024 Regional Health Improvement Plan as a top priority across our region. More than 1,900 community members provided feedback to inform this plan.
Our region's housing needs
Lack of affordable housing in northwest Oregon is among the nation's worst.

Oregon only has 28 units of affordable housing for every 100 extremely low-income households.
Clatsop County's rate of houselessness is the highest in Oregon, six times higher than the state average.

The housing crisis is not limited to those with low incomes. Recruiting healthcare workforce from outside the region is challenging due to lack of housing availability.
"The lack of housing is a huge barrier to getting medical providers to come work in our community. We lose potential staff every week" -Pam Cooper, Director of Finance for Providence Seaside Hospital
Secure housing is shown to improve physical and social wellbeing. A recent study on Oregon Health Plan members shows the following statistics after a year of stable housing: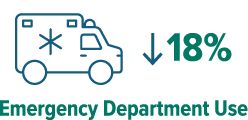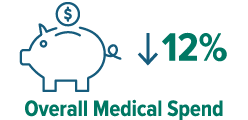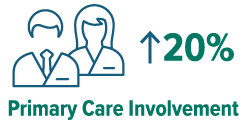 Some of our recent housing investments
Through our Housing Impact Fund, Columbia Pacific is making investments to increase the number of affordable housing units available in Clatsop, Tillamook, and Columbia counties, and to build the capacity of organizations working to address community housing needs.
Recent investments include:
Increasing stock of affordable housing
Chelsea Gardens (Clatsop County)—help fund additional housing units for individuals with severe and persistent mental illness
Clatsop Behavioral Health (Clatsop County)—help fund additional beds of transitional housing for people with significant behavioral health needs, support funding for affordable apartments at Clatsop Behavioral Health's new Seaside clinic
Copeland Commons project (Clatsop County)—contribute to the development of housing units for lower income residents
Owens Adair project (Clatsop County)—provide funding to support the expansion of an affordable housing complex for functionally diverse seniors
Iron Tribe-Arnold House (Columbia County)—support the creation of housing units for individuals at risk of houselessness, experiencing substance use disorder, and/or seeking reunification with children in foster care
Iron Tribe-Oster House (Clatsop County)— support the creation of housing units for individuals at risk of houselessness, experiencing substance use disorder, and/or seeking reunification with children in foster care
Nestucca Ocean Apartments (Tillamook County)—help add affordable housing units, including several allocated for Tillamook Family Counseling Center clients
Bayside Commons (Tillamook County)—help fund 24 affordable rental units in Nehalem
Addressing houselessness
Astoria Warming Center (Clatsop County)—help expand to become a year-round shelter for people experiencing houselessness
LiFEBoat Services Navigation Center (Clatsop County)—help open a daytime navigation center for houseless community members
Building capacity of organizations offering housing-related services
Clatsop Community Action Housing Portfolio Manager (Clatsop County)—fund a new position that helps community members navigate housing supports
CARE Shelter Case Manager (Tillamook) – expand the capacity of the staff to explore shelter solutions for the unhoused, while continuing to focus on housing access and homeless prevention
How to get involved